G&T Makes Playboy
***FAIR WARNING: The hyperlinks in this article don't contain nudity right off the bat, but some workplaces might frown on seeing the word "Playboy" in your URL history.
Playboy Mobile is a website geared toward mobile devices.   What sets it apart from the online playboy.com is that the stories are about 140 to 200 words so they can be read easily on a mobile device.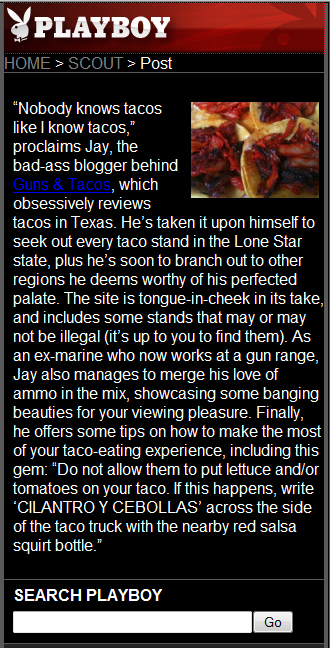 You know, so you can read the articles.
Playboy Scout is a blog module within Playboy Mobile that covers some of their favorite things, and this website just happens to be one of them. They recently did a writeup on the GunsandTacos  blog that I thought I'd share with you.
Next time you get caught flipping through your cell phone looking at airbrushed gals in their underwear, you can blame it on me, I guess.
Perv.