Taqueria Maya Quiche
In August of '09, Jeff Balke wrote a great blog post about Washington Avenue in the Houston Heights, which coined and immortalized the term "douchefication". If you cruise down Washington around midnight, you will find a large quantity of wealthy and intoxicated patrons that listen to pop music intentionally and think they can tell the difference between Grey Goose and Stolichnaya in a Long Island Iced Tea.
The good bars and music venues are long gone and have been replaced with trendy, packed dance clubs with unimaginative bartenders and top 40 remixes playing on booming sound systems intended as a conversation preventative.
In the last month or two, Taqueria Tierra Caliente has changed their location to Washington,  and a new player has moved into town: Taqueria Maya Quiche. Stationed in front of The Lot, this truck has been drumming up a good bit of business since its arrival.
I had never ventured into The Lot before so I thought I'd case the joint. I tried to ignore the two straight girls making out at the bar, but they were in between me and the bartender. The speakers thumped some kind of Michael Jackson techno remix butchery that made my stomach turn. I had to shout.
"AHEM. EXCUSE ME, MA'AM".
No response.
"MIND IF I ORDER A DRINK?"
"Oh thanks baby! I'll have a Patrón shot and she'll have a Grey Goose and Red Bull! Hee-Hee!"
As an amateur anthropologist, I opted to converse with her in her native language by executing a vintage 1991 Shannen Dougherty eye roll.
Some soulless doucheketeer soaked in Axe Body Spray bumped into me, scratching my arm with the rhinestones on his shirt. I tried to stare him down but he was wearing sunglasses.
Sunglasses.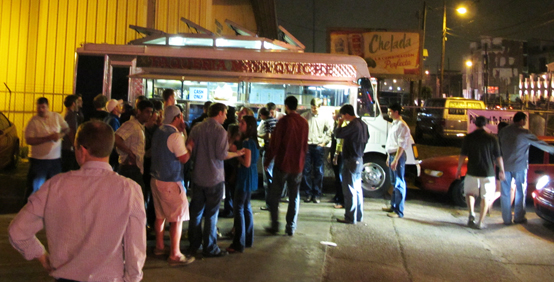 I left the bar before I could get myself into trouble. Taqueria Maya Quiche was in full effect. A dozen wobbling patrons lined up in front of the joint, so I cut in line and ordered some tacos, knowing that none of these guys have ever been in a fist fight in their lives for fear of messing up their hair or damaging their jewelry. They've never even watched a Western.
There's a funny thing about Washington Avenue. I've noticed that nobody fights. They will push each other around, yell, take their shirts off while waiting for their buddies to pull them away, but nobody swings. These are a bunch of hand models that practice suggestive faces in the mirror before going out for the evening. They use daily facial moisturizer.
Maya Quiche is an unusual name for a taco truck, right? That's because you're thinking of quiche, that awful egg pie thing that old people make for breakfast. That's not it. The Quiché are a Mayan people from the highlands of Guatemala, mostly from Chichicastenango, or Chichi for short. Guatemalans are just like Mexicans except shorter.
I ordered three tacos al pastor. If you don't know what those are by now, you've got some catching up to do,  homie. I hoped they'd have some unique Mayan cuisine or tamales wrapped in banana leaves, but no such luck.  I ordered con todo, "with everything".  At most taco trucks, this means they're going to put fresh chopped white onions and cilantro on your taco.  If the taco truck is on Washington Street, I've learned that the demands of the audience dictate what goes on your taco.
I can only imagine the remonstrance of the Washington crowd when the truck first opened.
"Where is the lettuce? Where is the tomato? Where is the CHEESE, and why aren't you playing KE$HA?"
I've said before to be warned of taco trucks that acknowledge gringo-ism by replacing onions and cilantro with lettuce and tomato. To placate the hordes, Maya Quiche adds everything to their tacos. Cilantro, onions, lettuce, tomatoes, and cheese. And you know what? It's pretty good. The pork was on the dry side, but when you add all of those fresh elements to it and dump some salsa on top, you won't notice. The red salsa was just how I like it. Bright red and filled with jalapeño seeds, with an ideal texture. Although the meat is the core of the taco, you've got to realize that the pastor test is the toughest to pass. I'm guessing that if I had ordered a fajita taco, it would have passed with flying colors.
The beauty is, if you're in this location you don't need to serve good tacos. You could sell cans of Spam for five bucks a pop if you were so inclined. These jokers will buy anything.  Maya Quiche serves a fine taco with quality ingredients- even though they don't have to. To someone who has spent the last three hours on the dance floor guzzling shots of high end sipping tequila with a salted rim and dry-humping girls who have been giving him bad phone numbers, this is a king's feast.
Did you know Patrón is owned by a co-founder of the Paul Mitchell line of hair care products?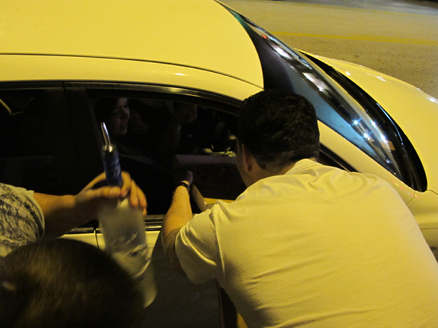 I continued down Washington, seeing people pee in alleys and argue about reality shows. Two guys leaned into the passenger window of a car, sharing a box of pizza and a bottle of Grey Goose with the bar spigot still on it. One guy on the street opted to remove his shirt and tie it around his head. I mean, that actually made sense to him.
Don't get me wrong, I don't dislike these folks. They're not too different than me, really- just younger, drunker, richer, and they use hair dryers. I had a good time hanging around on Washington, but I've got to admit I felt a bit smug,  for one simple reason.
I know better places to hang out.
The facts remain. Some girls need a place to make out with each other to attract guys with Prada shoes or an Audi key chain, and some guys need a place to dress like characters in The Fast and the Furious and break up pseudo-fights that would have never occurred.  I don't hold it against them- it's not their fault they have never spot welded, caught a saltwater fish, or changed their own tire.