Profile: Chalino Sánchez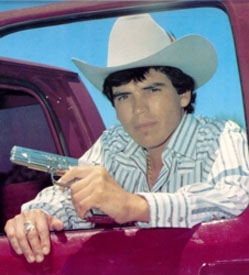 I first (knowingly) heard Mexico's famous North Mexican supergroup  Los Tigres del Norte in a taxicab in Tijuana. It sounded like some kind of  German polka, heavy on the accordion, and it seemed fairly unremarkable until samples of automatic gunfire erupted throughout the song.  "What kind of music is this?" I asked the driver.
"Ranchera", he replied.  "It's Mexican gangster music".
Growing up in Texas, it's impossible not to be familiar with Tejano (Tex-Mex) music. Although somewhat similar to Tejano, ranchera was  less refined in studio quality and entirely devoid of the North American "country music" sound. I eventually learned that ranchera is more "rural" than "gangster".
Modern ranchera's stepchild narcocorrido is gangster. The narcocorrido, or "drug ballad", is a style of popular music throughout Texas and Mexico which generally focuses on aspects of the drug trade.
With its anti-authoritative tone and stories of violent gunfights,  peppered by samples of gunshots and sirens, I was sold. The more I learned about this style of music, the more Mexico seemed like the Old West, bolstering its appeal. In the bars and nightclubs of Tijuana, the most affluent patrons sported white cowboy hats and gold chains. Years later, I'd see the same type of crowd in massive Houston nightclubs such as El Rodeo and El Chaparral.
Arguably, Rosalino "Chalino" Sánchez is the ultimate badass of the narcocorrido style. Born in Sinaloa, Mexico, he had a nightmarish childhood. After the untimely death of his father that threw his family into poverty, his sister Juana was raped by "El Chapo" Perez, a member of a local crime syndicate. Chalino dedicated his young life to revenge, and at 15, legend says, he gunned down Perez at a party in public view. On the run from Mexican authorities, he eventually crossed the border into Southern California.
Chalino employed himself on the streets, assisting his brother Armando as a coyote, drug dealer and dishwasher. His brother was shot and killed in a Tijuana hotel in '84, and Chalino wrote his first known ballad as a memorial to his brother. He continued writing music and promoting himself with cassette tapes for months, until he was catapulted into stardom on one eventful night.
That night, he was singing in a club in Coachella, California, just outside Palm Springs, when an unemployed mechanic came up to the stage to make a request, then pulled out a pistol and shot Chalino in the side. Living up to his reputation, Chalino pulled out his own gun and returned fire. By the time it was all over, the would-be assassin had been shot in the mouth with his own gun, Nacho Hernandez had been shot in the thigh, and at least five other people were wounded, including a young guy who bled to death as his friends drove him to the hospital. In Sinaloa, it is commonly said that the death toll was higher, but that most of the killed and wounded, being undocumented aliens with criminal connections, were spirited out of the club and over the border before the police arrived.
-Elijah Wald,  Narcocorrido: A Journey into the Music of Drugs, Guns, and Guerrillas
Sanchez' voice was raspy and often out of tune, which helped define his "tough guy" sound over multitudes of imitators. He would antagonize prominent cartel leaders and public figures. A prolific musician, he cranked out thousands of cassettes and sold them in the streets. In Mexico and California, Chalino was known (and feared) as the real deal. He wore his white hat cocked to the side, a big belt buckle, cowboy boots, gold chains, and packed a Colt 45 with pearl grips.
At the height of Chalino's success, according to most accounts, his entourage was pulled over by a Chevy Suburban. A number of men displayed police identification and asked that he accompany them to the police station. He was found hours later on the side of the road, blindfolded, with rope marks around his wrists and two gunshots to the head. There is some confusion as to where this information regarding the Suburban was credited. In LA Weekly's cover article on the subject it was reported that Chalino's brother Esperidon was the surviving witness – but according to this fan site, Chalino didn't have a brother by this name.
Violence in the narcocorrido culture has often been compared with rap culture in the US. Just like Tupac and Biggie, several groups scrambled to purchase Chalino's music, mixing his voice with their album tracks.  LA Weekly referred to it as a "Sinaloazation of L.A." Chalino had recently sold off his rights to a record company for around $150,000, and his family would see no royalties to the fortune.
Chalino's legacy didn't end there. His son Adán Sánchez was a very popular and successful singer since the age of 10, eventually selling out the Kodak Theater in Hollywood (home of the Academy Awards). At the age of 19, while on tour in Mexico, he was killed in a car crash in his father's home state of Sinaloa while on tour. Although there are rumors that the car was gunned down, there isn't much evidence around to back it up.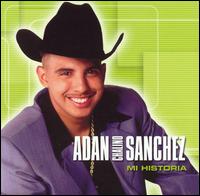 At the funeral proceedings for Adán, over 10,000 mourning fans crowded the streets in Norwalk, CA. As they were turned away at the church doors and the police arrived with riot gear, groups of angry fans rocked cars and turned over portable toilets. Years later, a stage play was written regarding the events of that day.
As the violence in Mexico increases, the ballads of the drug trade live on- and so does the violence in the music world. According to Wikipedia, over a dozen prominent Mexican musicians have been murdered between 2006 and 2008, most notably Valentín Elizalde, Sergio Vega, Sergio Gómez, the lead singer of Chicago-based Duranguense band K-Paz de la Sierra, and  Sergio Vega (El Shaka). Largely, most of these murders have gone unsolved.
Sure, some of this music does tend to glorify violence. As the Mexican government attempts to put a stop to this unique music, their efforts obviously promote the opposite effect. Artists will continue to  immortalize these stories with music- a format that will never be forgotten, as the cartel wars and headlines continue.
This video showcases the banda style, a fusion of German polka and Northern Mexican music which originated in Sinaloa. Also, I bet nobody is telling him to take his foot off the couch.