John Adomono (Guitarist Fantastique)
When I was a rotten kid in the cassette era, I found this amazing album in my dad's old record collection. I'd never heard of the guy, but wow, he was playing a really cool looking guitar. And that's important.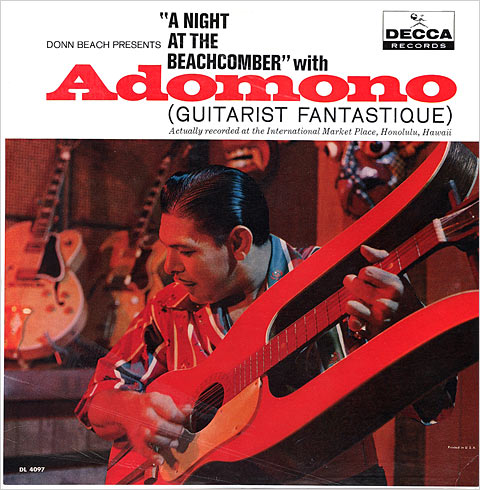 The man played some kind of tiki surf music. Hell, he may have invented it. It was amazingly fast, and he played with some kind of pedal that made the notes echo, the same strange effect that make people think they sing well in a bathroom and sign up for American Idol.
Every note was perfect, and I loved the fact that there were no other instruments involved. Just a Gypsy with a martini mustache that looked like a Mexican Clark Gable, and a guitar.
Here's a sample of a song of his from a different album. It was the only song I was able to find online.  I don't believe this song is a good representation of Adomono's best music, but again, it's all I could find.
I enjoyed every song on the record, and I played the hell out of it while goofing around on my dad's acoustic guitar.
I'd love to say something about how I played until my fingers bled, but I was a really lazy kid and probably gave up way too easily. I have no idea where that record is now, I probably threw it at my sister or something.
As an adult, the fact that I couldn't find the music from "Night at the Beachcomber" online drove me nuts.
I recently asked my dad about the album. He was in the Navy during the Vietnam War, and at one point was stationed in Honolulu, where he saw John Adomono in concert with his then-girlfriend at a venue called Don the Beachcomber, within the International Market Place.
He was astounded by the show, and some time later, his fiance (not my mother, the two never married), bought this album as a gift for him in Los Angeles. The album was recorded at Don the Beachcomber in Honolulu. Neat, right?
I jumped on Google and did some searching on this John Adomono fellow. No Wikipedia entry. I did come across posts on a few websites, including a really cool website called Waxidermy that explores lost vinyl, and a blog called Bowling Trophy from a person that collects really interesting objects from everywhere and had named this as their Record Cover of the Week. I also found mentions of this music on several surf-music connoisseur websites, but no audio clips.
Here's something more interesting: Each of these posts had several comments from John Adomono's sons, grandsons, and even great grandsons, reminiscing about the facts they knew about Mr. Adomono.
I emailed Kevin Adams, who I understood to be the eldest son, and basically told him what you just read.  Since John Adomono's music can now only be found by obtaining old vinyl from E-Bay, I expressed concern and explained that unless this music was submitted to sites such as last.fm, lala.com, Pandora, YouTube, or playlist.com, John Adomono's music may be lost in time.
He wrote me back immediately. Here is an excerpt from his email. Formatting has been preserved.
Today, I'm a National Singer / Impressionist
, & have performed all over…
Look up Kevin Adams Singer Impressionist
or  Kevin Adams Revue of the Stars
He also included the image below. Formatting has been preserved.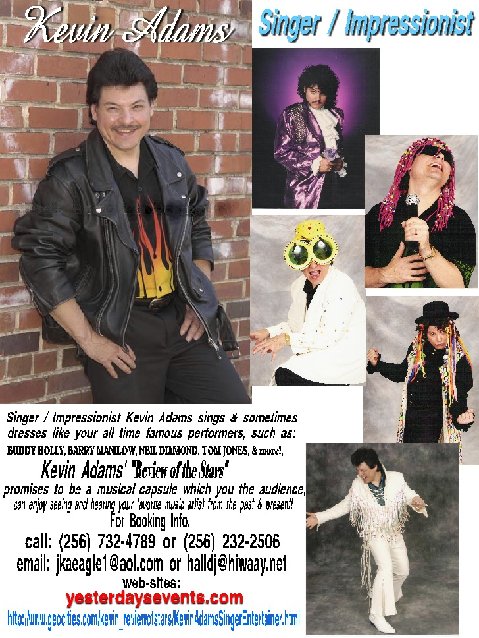 0I sincerely hope that if anyone reading this finds themselves in Athens, Alabama, they might consider viewing  Kevin Adam's impressionist performances.
But on a more personal (albeit selfish) level, I really hope that someone with access to Adomono's music knows how to convert this album to a modern format – before John Adomono's strange Gypsy music is lost forever.
And please, someone send a graphic designer to Athens, Alabama.