Taco Trucks and Shiny Trucks
"Taco trucks are operated by immigrants for immigrants. This makes them a fascinating culinary phenomenon, first of all, because they're serving some items no other venues offer, and second, because they challenge high-minded ideas about authenticity." – Robb Walsh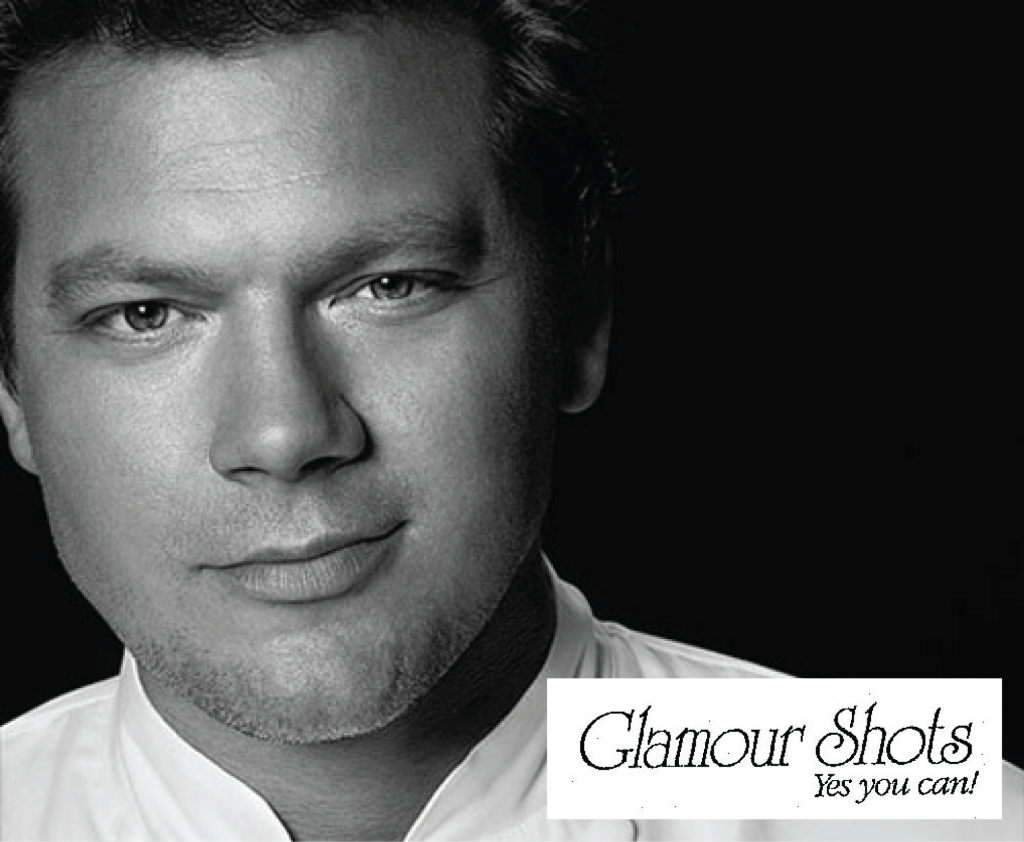 When the first commercial for the first episode of The Great Food Truck Race aired, you could hear the collective sound of thousands of palms smacking foreheads across the nation.
Tyler Florence, really?
The food truck craze has run its course in LA and NYC, according to every major food-related publication, to the point where even stating that the truck frenzy has jumped the shark, is jumping the shark. But in the fair town of Houston, Texas, food truck mania just kicked into hyperspeed.
You've seen the shiny new food trucks around town. I'm guessing there have been at least two opening up every week in past months. Many offer top-notch cuisine, others miss the mark. They have clever names, they're active on social media, some of them even have QR codes on their trucks. Phamily Bites, a great late-night Vietnamese truck, sells banh mi sandwiches of many varieties, including filet mignon and Chinese sausage. There's a photobooth machine on the front of their truck, where patrons of the bars on Washington Avenue can pose and view their duckfaces the very next day on Phamily Bites' Facebook page.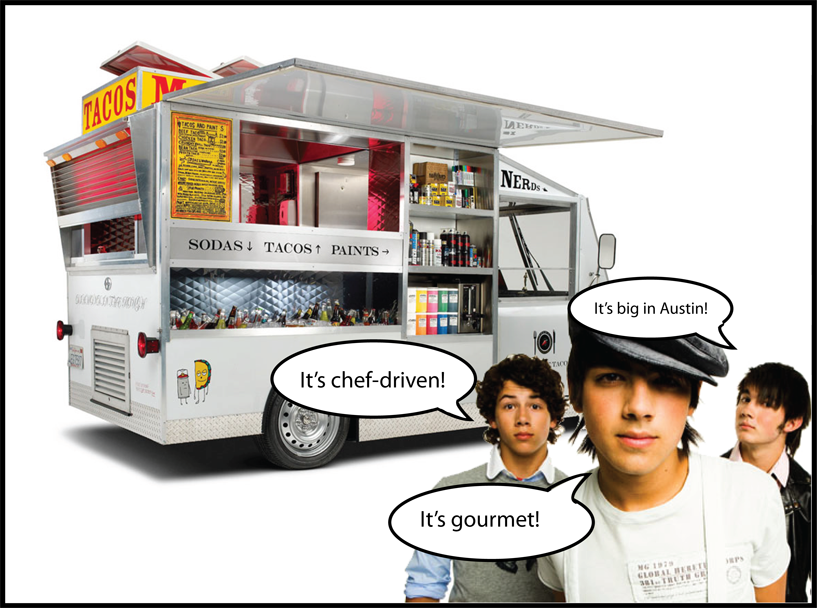 Newer bars such as Liberty Station, The Boneyard and Kung Fu Saloon have found a symbiotic relationship with food trucks. The trucks make good money, and the bars can keep their patrons from bailing to grab dinner.
Entrepreneurs outside of the restaurant industry have found creative ways to profit from the craze. A tumultuous food truck festival took place in May, and the most recent enterprise is the "H-Town Food Crawl". I'm not sure why they call it a crawl, because the trucks are all in one place. Tickets are sold to the public for around $25 and for this price you can try samples from a handful of shiny trucks and get drink specials at a local bar.
You can even look forward to a book about these trucks. Houston author (and 29-95 contributor) Paul Galvani is currently working on a book titled, "Houston's Top 100 Food Trucks".
One may ask, who blazed the path for this shining armada of culinary warriors?
Mexicans, mostly.
The mobile eatery involves less financial risk than a brick and mortar restaurant, costs less, and can be a platform for restauranteurs who would like to "work their way up", or prove their concept to financial institutions before investing in a restaurant. El Hidalguense, a Hidalgan restaurant on Long Point known for excellent cabrito and borrego, started as a truck that sold rotisserie chickens. 100% Taquito, a successful venture on the 59 feeder, started as a trailer in a Wal-Mart parking lot.
The side of a true taco truck does not look like the front of a Hannah Montana album. The menu is usually painted by hand. If they serve pork, there will likely be a handpainted Porky the Pig on the side. If they serve chicken, you may see a cartoon chicken, usually in a cowboy hat for some reason. Tacos usually go for around $1.50 each, and a great many taco trucks offer great tacos for as low as $1.00.
Despite the low price, you'll find amazing food at these trucks. Houston area food fanatics and food critics know them very well. In fact, the Houston Chowhounds have held Taco Truck Crawls for years. (These are free of charge to all participants, by the way.)
Taco trucks (in the Houston metro) are held to the exact same hygienic and procedural standards as shiny trucks, but there is a disconnect in public perception. Average Joe will have no problem eating adventurous, non-familiar food from a shiny truck with a professionally designed menu, but will steer clear of the traditional taco truck, even with a significant price break.
The media definitely plays a role in this perception. While local television has a history of producing hatchet pieces on traditional taco trucks, it has no problem embracing the new wave, as shiny trucks are now regularly featured on morning shows and hired to provide food at city events and festivals. Sadly, it's unlikely that you'll ever see Tierra Caliente or El Mapache on Great Day Houston, even though the unheralded taco trucks outnumber shiny trucks by hundreds, if not thousands. They're not shiny enough for these purposes. The true taco truck, the humble servant of the diverse world of mobile cuisine, does not entitle itself with misleading terms like "gourmet" or "chef-driven".
If you haven't been out to a true taco truck, here are a few suggestions on different sides of town, in no particular order.
Taqueria Mi Jalisco
Berry and Fulton, North Houston
This was a popular spot on the Chowhound's second Taco Truck Crawl, even though it was across the street from the massively popular Tacorrey truck. (The Tacorrey truck still exists, but hasn't been set up at this location for a while.) You can find suadero and longaniza tacos here, as well as good tripas. The taquero is very friendly and speaks fluent English, and you'll get chiles toreados- fresh, grill-charred jalapenos free with every taco plate.
Taconmadre
Various locations, www.taconmadre.com
Although this small chain of taco trucks is in a bit of trouble with the Department of Labor at the moment, there's no denying that they serve some of the best tacos in town. They have a huge menu, but if you can't make up your mind, you can never go wrong with their fajita tacos on corn tortillas.
Karancho's
620 Sheldon Road, Channelview
I'm not sure if this qualifies as a taco truck, as it never goes anywhere. It has a nice patio with big screen TVs on it, but it is technically on wheels. No Houston taco list is complete without it. Tacos al pastor is their specialty, and anyone that knows me also knows I will never shut up about it. It's a bit of a drive, but Channelview is probably not as far away as you think. It's best to visit Karancho's on a weekend in nice weather, when the trompos are getting charred by hot coals while pineapple drizzles all over the bright red achiote-marinated pork like a daydream in a luchador's siesta.
Taqueria Don Tin
Shepherd and 23rd Street, Heights
There are several taco trucks around town named Don Tin, but specifically I'm talking about the one in the north Heights in the Fiesta parking lot. Tacos are a buck here. Be sure to utilize the provided red salsa, and bring any Spanish knowledge you have- they don't get many gabachos ordering food at this location. Something unique at Don Tin- you can order Tex-Mex- style "tacos dorados" here. They fry corn tortillas in a U shape on the spot, fill it with your meat of choice, and top it with white cotilla cheese. This is great for taco truck newcomers. It's best to eat these at the truck, rather than taking them to go.
El Mapache ("The Raccoon")
Gulfton and Renwick, Southwest Houston
You can eat from the taco truck in the parking lot of the convenient store, or you can sit down in the vibrantly decorated restaurant in the lot behind the store. You really can't go wrong with the tacos here, and the salsa is excellent.
Veteran's Memorial and Gears Rd.
Northwest Houston
Here's a destination spot. Three or four trucks are in the same lot, with plenty of seating. A taco truck, a pupusa truck, a raspas (snow cone) truck, and a chicken truck with a grill in the back. For five bucks, you can buy knockoff DVDs for movies that are still in the theaters. Bring your own beer if you'd like, and bring your friends too.